Pre-Reading Resources
SPOTS GALORE
LSG $26.99

Choose your favourite animal board, spin the wheel and select the correct spot. But be careful! It must be identical in both colour and size to the spot you wish to cover on your board. Spots Galore is the perfect game for young children who are developing skills of size and discrimination. The four colourful boards are designed to give many years of fun – simply wipe clean with a damp cloth. Spots Galore includes:
4 Boards (25cm x 34cm)

1 Spinner

24 Counters
SNAP FOR BEGINNERS
LSB $23.99

Snap For Beginners contains 160 laminated cards, divided and coded into two sets. Ideal for the development of pre-reading skills, the cards are perfect as a sorting and matching activity for children... or if you prefer... small groups can have lots of fun playing Snap, Fish or Concentration... games that will enhance their social, language, memory, concentration, visual recall and discrimination abilities. Thirty-two 'trick' cards are included in each box to add an extra level of difficulty. Now the children need to be very careful not to 'snap' on the cards that are different in either size or colour! Snap For Beginners includes:
160 Laminated cards

Sturdy storage box

19cm x 14.5cm x 5.5cm
COLOUR AND SHAPE LOTTO
LCSL $42.99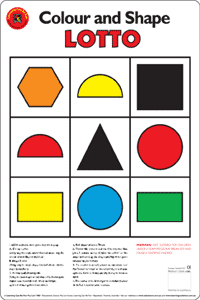 Colour And Shape Lotto is an attractive game that can be played by up to four children. The game can be played according to the ability level of the children. Colour Lotto... using the colour spinner. Shape Lotto...using the shape spinner. Colour and Shape Lotto... using both the colour and shape spinners.
Colour And Shape Lotto contains:

4 Durable mats (33cm x 50cm)

36 Plastic counters

1 Plastic colour spinner

1 Plastic shape spinner
TURTLE TROT
LTT $22.99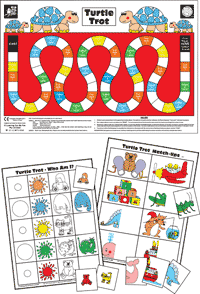 Take turns to trot around the game mat collecting cards as you go! Any card that is a correct match for your Lotto Board may be kept ... if it does not match, return it to the bottom of the card pack. Who will be the first to complete their board? Turtle Trot contains two exciting lotto games for four players.
Game 1 'Who am I?' (Logical Lotto)
Game 2 'Match-Ups' (Perceptual Lotto)
This game contains:

Wipe clean mat (33.5cm x 50cm)

52 Laminated answer cards

4 x Double sided laminated Lotto Boards (33.5cm x 25cm)

Dice and movers